• bac50 • Benzalkonium Chloride • Disinfectants • Mildew Control • water treatment
Benzalkonium Chloride, commonly known as BAC50, is a quaternary ammonium compound that has gained widespread recognition for its versatile applications across various industries. From its early use as a disinfectant to its presence in pharmaceuticals, personal care products, and beyond, BAC50 has proven to be a valuable and effective chemical. In this comprehensive blog post, we will delve into the various uses of Benzalkonium Chloride and explore its benefits in different contexts. Understanding Benzalkonium Chloride (BAC50) Benzalkonium Chloride is a type of cationic surfactant that exhibits potent antimicrobial properties. It is often used in its concentrated form, BAC50, which denotes...
---
• borax powder • laundry booster • pest control • weed killer
In the realm of household essentials, one often overlooked yet remarkably versatile substance is borax powder. This humble mineral, also known as sodium borate, has been a staple in households for decades, prized for its myriad of uses. In this blog post, we'll delve into the surprising benefits of borax, showcasing its versatility and why it deserves a spot in your household arsenal. Natural Cleaning Powerhouse: Borax is a natural cleaner that can tackle a wide range of household cleaning tasks. From scrubbing surfaces to deodorizing and disinfecting, borax is an effective and eco-friendly alternative to many commercial cleaning products....
---
• lactic acid • skin peel
Are you looking to rejuvenate your skin, reduce the appearance of fine lines, or bid farewell to those pesky dark spots? If so, you may have heard of lactic acid skin peels. This skincare treatment has gained popularity for its remarkable ability to transform the complexion. In this comprehensive guide, we'll delve into the world of lactic acid skin peels, exploring their many benefits and why they might just be the secret to unlocking your skin's radiant potential. The Basics: What Is Lactic Acid Skin Peel? Before we dive into the benefits, let's establish what a lactic acid skin peel...
---
• acetic acid • cleaning white vinegar • glacial acetic
Acetic acid, commonly known as vinegar when diluted, is a versatile and powerful substance with various applications. However, when it comes to using 80% acetic acid, safety and proper dilution techniques are paramount. In this comprehensive guide, we'll explore the world of 80% acetic acid, from understanding its properties to dilution techniques and practical applications. Understanding 80% Acetic Acid 80% acetic acid, also known as glacial acetic acid, is a highly concentrated form of acetic acid. Unlike the familiar household vinegar, which typically contains 4-8% acetic acid, this concentrated form can be a potent and potentially hazardous chemical if mishandled....
---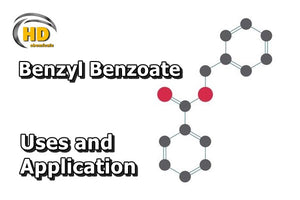 Uses and Applications of Benzyl Benzoate In the world of chemistry, there are compounds that quietly serve as unsung heroes, playing pivotal roles across various industries. One such compound is benzyl benzoate, an unassuming ester that has found its way into an array of applications, from pharmaceuticals to perfumery and beyond. In this comprehensive guide, we'll delve into the multifaceted uses of benzyl benzoate, exploring its chemistry, properties, and the myriad industries that benefit from its versatility. The Chemistry of Benzyl Benzoate Before we dive into its applications, let's first understand the molecular makeup and structure of benzyl benzoate. 1....